Family Law
Division of property and assets following separation
It is essential that separated couples legally finalise the division of their property and assets. To obtain your best outcome, you should seek advice from our experienced Cairns family law team.
To determine the division of assets, several factors are considered, including:
the value of the assets, liabilities/debts and superannuation of each spouse comprising the current property pool;
the assets and liabilities each spouse owned at the commencement of cohabitation;
the financial contributions made by each party;
the contributions to parenting and homemaking made by each party;
the non-financial contributions made by each party during the relationship (including renovations and improvements to property);
the future needs and capacity of each spouse to support themselves (this includes financial ability but also other factors such as age and health); and
the length of the relationship.
If you do reach an agreement
In most cases, we are able to assist our clients to reach an agreement with their former partner regarding how their property will be divided following separation. We pride ourselves on the range of services we offer our clients to resolve their matters amicably with their former partner, including negotiation, mediation and collaborative law practise.
An agreement as to property settlement for matrimonial or de facto property, is usually formalised by way of an application for consent orders, which is in the Family Court. It is also possible to resolve your property matters on a final basis by entering into a financial agreement which complies with the requirements of the Family Law Act 1975.  Our expert Cairns family lawyers can guide you as to the best option for your circumstances.
Contact our Cairns family lawyers today to enquire about our fixed fee and traditional time based billing options for assisting you to formalise your agreement.
If you do not reach an agreement
If you and your former spouse are unable to agree on the division of the matrimonial property pool, a court application needs to be filed within 12 months of a divorce becoming final. For de facto couples who are unable to resolve the division of the de facto property pool, the time limit for commencing court proceedings is two years from separation. The same time limits apply to spousal maintenance issues.
"Property" is defined by the Family Law Act 1975 and includes all assets, liabilities and superannuation owned by both parties prior to, and after, separation.
The usual approach a court will take in response to a property settlement application is to:
ascertain the property of the parties at the time of the hearing, and determine its value. There is an obligation on the parties to disclose all of their assets, liabilities and superannuation interests to each other, as well as all relevant documentation;
the court then assesses the entitlements of the parties (in percentages) to the property pool based on their respective financial, non-financial, homemaker and parenting contributions. The court is prohibited from making any order adjusting the parties' existing interests in property unless it is satisfied that it is just and equitable to do so;
the court then considers "future factors" such as the parties' respective ages, earning capacities, responsibilities to care for children, as well as other discretionary factors, to determine whether an adjustment should be made to the percentage division arrived at based on their contributions; and
the court divides the property pool reflecting the parties' percentage division entitlements. Lastly, the court considers whether the allocation of property between the parties is just and equitable.
Our Cairns family lawyers are experienced litigators in the Family Court, Federal Circuit Court and Domestic Violence Court and can assist you throughout the entire process, from commencing court proceedings, to child dispute conferences, financial conferences, arbitration, mediation and trial.
Meet the experts in
Division of property and assets following separation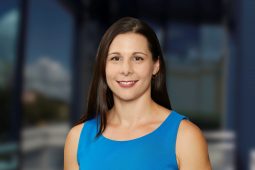 Julie Hodge
Special Counsel
Julie is an experienced, skilful and dedicated family lawyer who has been assisting Australians and Australian families to resolve their separation and divorce issues since 2007. Julie has extensive experience acting in all manner of family law issues including parenting, de facto and matrimonial property and divorce matters, spousal maintenance, domestic violence, child support and child protection issues.
Email
Show Number
Show Number
more about Julie
Miller Harris Lawyers has a dedicated team of family lawyers who are focused on achieving the best outcome for your personal circumstances. We provide expert legal advice in all family law issues and associated matters such as estate planning and corporate and tax restructuring. Our lawyers can advise you on separation and/or divorce, child custody and children's matters, marital property settlements, mediation and arbitration, spousal maintenance and a range of other family law matters. We have helped many families throughout the Cairns and North Queensland region on the path to a brighter future.
Email
Show Number
Show Number
more about Division